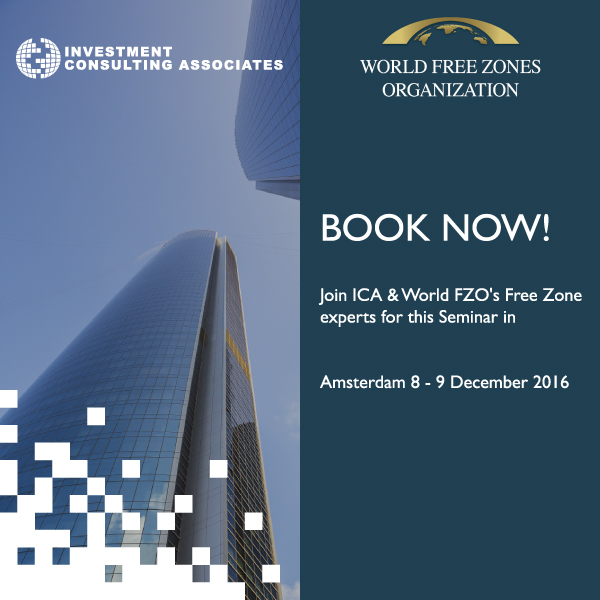 29 Sep

Join ICA & World FZO's Free Zone Experts For Seminars

World FZO in association with ICA's global Seminar series for Free Zone professionals was developed over the last ten years and is offered globally within World FZO's network. It aims to further enhance and professionalize the services, expertise and capabilities of Free Zone professionals. During these Seminars presenters will cover real life cases, best and worst practices and use different databases and tools. Attendees will be awarded with a Certificate of Achievement of the workshop.

Amsterdam 8 - 9 December, 2016

BOOK FOR AMSTERDAM
Covered Topics:
Recent Trends in FDI and New Forms of Investment
Investor Attraction and Marketing of your Free Zone: From Board Room to Site Visit
Free Zones Strategies of the Future
Regional Trade Agreements, Customs Unions and Competitiveness of Free Zones
Innovation in Service Delivery by Free Zones: Moving beyond Financial Incentives
Communicating with (Foreign) Investors & Organizing Site Visits
Making Free Zone Incentive Programs Work
Managing your Free Zone Organization: Defining a Strategy
Seminar Fee:
Early bird* | USD 399.00 | World FZO members
Early bird* | USD 749.00
From 8 October 2016 | USD 699.00 | World FZO members
From 8 October 2016 | USD 999.00
*Valid until 7 October 2016
**Second, third and fourth registration from same organization receive a 25% discount
*** There's a maximum of 4 tickets per order
PayPal is our payment method. However, if you don't have a PayPal account it's also possible to pay directly by credit card by clicking on 'Check Out As A Guest'.